Cube's access systems are designed to keep your home, your business and your belongings safe. We supply and install custom designed access control systems to suit your needs and budget, and can even maintain your system to ensure effective operation ongoing. Our professional staff have decades of experience of providing the most effective, safest access and entry systems for homes and businesses around the UK.
Why choose an access control system?
When you install an access control system, you put yourself in control of the comings and goings at your premises. Restricted access means a safer environment for your staff or family, and also protects your buildings and belongings from vandalism and theft. An access control system from Cube is the modern alternative to locks and keys, helping you to stay safe and secure at all times.
The advantages over traditional lock and key systems
Cost effective – A lost key can mean a long wait for a replacement to be cut, and can sometimes result in expensive replacement locks being required. Access control systems allow you to reassign or delete credentials at the push of a button.
Secure – Access can be restricted through PIN numbers, proximity tags or a combination of both, keeping your premises more secure than a traditional lock and key system.
Better management and audit – You can view and print logs detailing entry and exit, helping you keep track of your resource allocation and personnel movements day to day.
Accurate – As all the data is digitally stored using powerful database systems, you can rely on the accuracy of the results.
Increase your productivity – Through the identification of key information, you can help your business to become more productive.
Expandability – Access control can be integrated with other security equipment, such as CCTV, alarms and fire systems.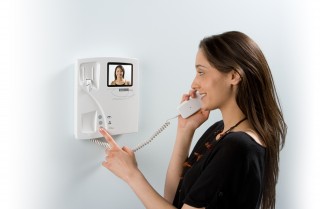 At Cube security we aim to provide a cost effective turnkey door entry control system that will match your needs perfectly. We have a broad portfolio of high tech access and entry equipment, ranging from simple audio entry systems to complicate multiple access control management systems. Our bespoke access control system can be designed to include bio-metric sensors, proximity readers, chip and pin credentials and more. Choose to include video, audio and even to manage your access system using your computer network. Whether you need a standalone system to provide straightforward protection, or a fully integrated access control solution for the ultimate in protection, our expert security personnel are ready to help.

Call us today on 02083201445 to find out more about how we can make your premises secure.
Computer Based Access Control System
Our computer based system, also known as an IP system, can make securing your premises as simple as operating a TV. IP based systems are widely used in domestic and commercial premises, thanks to their ease of use and flexibility in operation. We provide professional consultancy to help you choose the best IP based entry system for your needs, and can ensure you end up with a functional, professional and future proofed solution for your home or business.
Are you not sure what access control system to install?
Please call us on 0208 320 1445 for FREE initial consultation and survey.